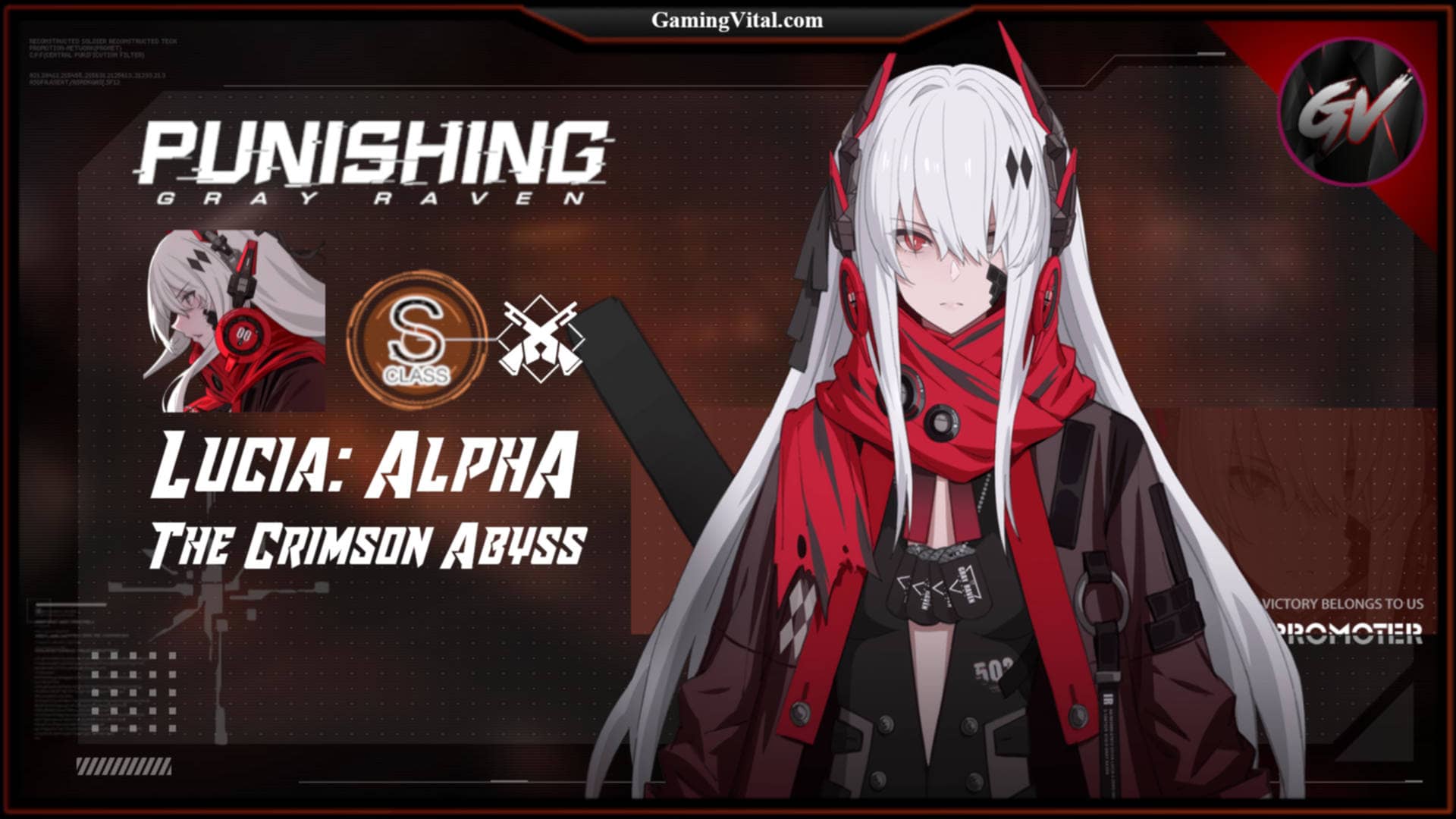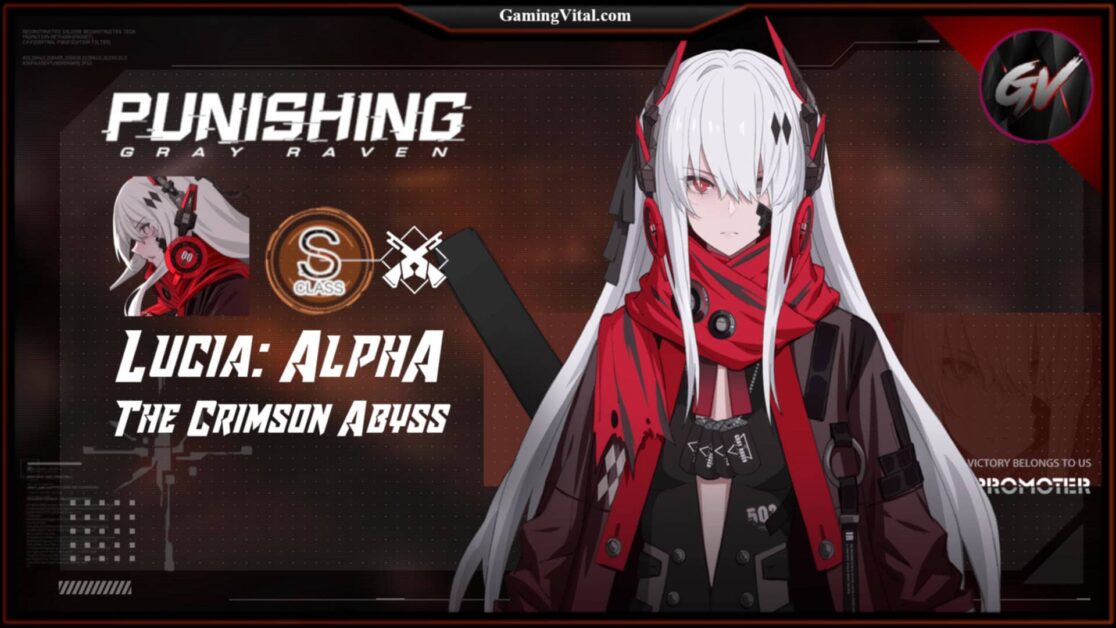 Lucia Alpha (Crimson Abyss), the well-known character, was the motivation for many to play Punishing Gray Raven. She was an enemy who later turned into a playable S-Rank construct with the release of the Frozen Darkness update.
In this article, we share the Lucia Alpha (Crimson Abyss) guide and builds in our Punishing Gray Raven (PGR) Series. Where this guide covers Lucia Alpha's (Crimson Abyss) Signature Weapons, her memory build set, and more.
"

Note

: Our articles are based on extensive research and actual gameplay.

If you like our content, support us by sharing it

.

Leave a comment if you want Us to update this post really fast

. Don't forget to follow us on social networks to see our new content and updates."

— Gaming Vital, Admin
In short: Lucia Alpha (Crimson Abyss) the S-Rank Attacker character, utilizes physical elements in Punishing Gray Raven. Additionally, her 6-star weapon is called Red Sakura, a Katana that empowers her Physical Elements and Swordwaves. Furthermore, Lucia Alpha's main memories set are Frederick & Darwin.
Lucia Alpha Character Short Overview:
Lucia Alpha (known as the Crimson Abyss) is an S-Rank Physical character and Attacker-type construct from the Ascendants Army in the Punishing Gray Raven (PGR) game. Additionally, she uses a Katana as a weapon and can deal element damage of 100% physical.
She was a mysterious enemy boss character that players met in the game's early story, she showed an unusual interest in the gray raven team, especially Lucia.
Besides, the specialty of the Lucia Alpha (Crimson Abyss) construct in PGR is about switching her attack form and the ability to inflict powerful single damage.
Additionally, you can take a look at the Frozen Darkness update, the official game trailer below, which introduces Lucia Alpha in the early releases of Punishing Gray Raven:
Be aware that the game and characters have changed quite a lot since the time this video was released.
PGR Lucia Alpha Gameplay:
Lucia Alpha gameplay in PGR is all about pinging 3 blue orbs followed up by any 3 orbs to Swordwaves state. For SS Alpha and best DPS, use 3 Blue followed up by 3 Red synchronously without delay.
Furthermore, see below the gameplay of Lucia Alpha (Crimson Abyss) with her amazing Blue Rose skin in the Punishing Gray Raven (PGR) game:
Lucia Alpha Memory Builds & Weapons Guide:
The recommended PGR Lucia Alpha (Crimson Abyss) Memory Builds and her Katana Weapons guide are as follows:
Weapons Guide:
The 5-Star Kuji no Sada Katana can be used with the Lucia Alpha without any issues and has the effect of summing a lightning strike that deals physical damage.
The 6-Star Red Sakura Katana is the ideal Signature Weapon for the S Lucia Alpha (Crimson Abyss) and can increase her power. To illustrate, for each orb pinged, the physical damage increases for a few seconds.
The increased damage can be stacked up to 10 times, which needs to be triggered repeatedly to resets the stack's duration. Moreover, entering the Swordwave state will get an additional Swordwave Orb
Memory Builds:
4 Frederick & 2 Darwin: Main DPS Build
Frederick and Darwin Memories build focuses on increasing Lucia Alpha's (Crimson Abyss) overall damage and movement speed upon dodging.
2 Darwin Memories: TOP.
4 Frederick Memories: Bottom.
4 Hanna & Darwin: Signal Orb DPS
Replacing Frederick with Hanna Memories will empower Lucia Alpha's (Crimson Abyss) signal orb damage even more.
2 Darwin Memories: TOP.
4 Hanna Memories: Bottom.
PGR Resonance For Lucia Alpha Weapons & Memories:
The suggested Lucia Alpha Resonance for 6-Stars Weapon (The Rad Sakura) and All her Memories in the Punishing Gray Raven, are as the following:
6-Stars Weapon Resonance: The Rad Sakura
1st: Dead Line Timing.
2nd: Matrix Lightning.
3rd: Glorious Afterglow.
All Memory Resonance:
Top Memory Slots: ATK & CRIT.
Bottom Memory Slots: Core Passive.
Team Setup For Lucia Alpha In Punishing Gray Raven:
Lucia Alpha can fit with any physical teammates in PGR, see the following suggestions:
Suggested Teammates:
Rosetta Rigor: S-Rank Physical Tank.
Liv Luminance: S-Rank Physical Support.
F2P Friendly Teammates:
Liv Eclipse: B-Rank Physical Support
Nanami Storm: B-Rank Physical Tank.
Note: you can replace any of the above teammates with Karenina Blast (A-Rank Physical Attacker). Because her ability of grouping enemies in one spot is so useful.
Check their guides below:
Finally, we hope that our Lucia Alpha the Crimson Abyss S-Rank physical Attacker Guide & Builds for Punishing: Gray Raven (PGR) is simple and useful for everyone. For additional information, check below:
Furthermore, support our Punishing Gray Raven Lucia Alpha guide by sharing. Knowing that sharing will motivate us to produce more content like this.