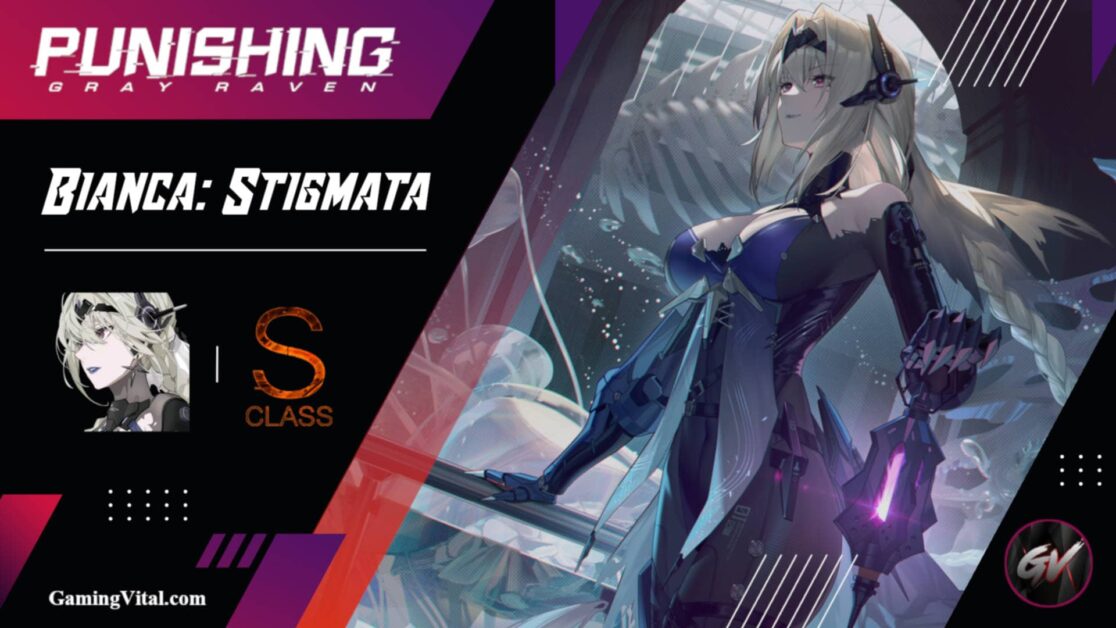 A new frame that resembles the Artoria Pendragon character (Saber Alter) from the Fate Anime series. Bianca Stigmata, the S-Rank Attacker, is available to play from the Across the Ruined Sea update in Punishing Gray Raven.
In this article, we present a beginner's guide for Bianca Stigmata in our Punishing Gray Raven (PGR) Series, highlighting her gameplay, Skills, Swordstaff weapon, Memory builds, suggested Teammates, and more.
In short: Bianca Stigmata, a PGR S-Rank Attacker Omniframe with Physical elements, can switch forms, and deal burst damage. Her 6-star weapon is Hecate, which increases critical damage and empowers her effects. The Charlotte / Leeuwenhoek is her main memory build set. Lastly, it's a highly recommended unit to have, she is F2P friendly and worth saving and spending black cards on.
Bianca Stigmata Character Overview
Bianca Stigmata aka Balter in Punishing Gray Raven (PGR) is an S-Rank Physical character and an Attacker Omniframe with a fascinating playstyle that resembles Saber, a popular anime character.
She wields a SwordStaff as a weapon, capable of dealing 100% Physical Elemental Damage. Also known by Punishing Gray Raven Global players as Bianca Abystigma, Alter, Balter, or in Punishing Gray Raven China as 比安卡·深痕 BPO-87.
Additionally, Balter is from a faction called Purifying Force or 清理部队. Her remarkable abilities include form switching, which unlocks her full potential, fantastic flying attacks, boost survivability, and the ability to unleash devastating Burst Damage.
As an S-Rank Omniframe (formerly Constract), Bianca Stigmata or Balter can be summoned starting from the Across the Ruined Sea event banner in PGR Global with a 100% Pity rate guarantee after 60 pulls. After the event ends, the Bianca Stigmata banner will not be available, but it may return in the future with a 70% pull rate.
Besides, If you're interested in other Bianca Frames, you can check out the article below:
She has always been a beloved character among fans of the game Punishing Gray Raven for many reasons. Her Balter frame, which makes her look even more similar to the Artoria Pendragon character (Saber Alter) from the Fate anime series, has increased her popularity and admiration.
What's more, Ayako Kawasumi, the well-known voice actress for Saber in Fate, is also the voice actress for Bianca Stigmata in Punishing Gray Raven, making her even more amazing.
This resemblance to Saber Alter adds to her appeal and showcases the influence of the popular Fate series on the character design in PGR.
Saber is a well-known and iconic character in the Fate universe, and the fact that there is a female character in Punishing Gray Raven shares a visual similarity with Saber Alter only enhances her standing as a fascinating character.
Check out the official "Across The Ruined Sea" PGR Global trailer below. Specifically, It highlights the new S Rank Balter Frame, new coatings, game additions, and more.
The Gameplay Of The Balter Frame
The following points summarize how to play Bianca Stigmata in Punishing Gray Raven:
Matrix only triggers when holding the dodge button anytime, but has a longer CD.
Matrix + Ping Orbs of the same color and aligned directly underneath, unleash a powerful attack.
Using the 1st Ultimate Signature Move will switch her to the Sword Form.
The Air attacks can be performed by holding the Basic Attack while in the Sword Form.
Sword Gauge empowers Air attacks and Basic Attacks while in the Sword Form.
Use Basic Attacks to perform the 2nd Ultimate Signature Move, stacking increases its power.
Unleashing the 2nd Ultimate Signature Move will return her to Normal Form.
In short, switch to the Sword Form as soon as possible, and use Air Attacks and Basic Attacks to charge energy for the 2nd Ultimate Signature Move. For additional info, refer to her Skills Guide section below.
You can take a look at the Bianca Stigmata gameplay video below. It shows her skills clearly, beautifully, and smoothly:
Skills Guide Introduction:
Here are the vital skills of Bianca Stigmata in Punishing Gray Raven, and they are as follows:
Normal Skills: Orbs
Red Orb (Piercing Thorns): Performs piercing attacks dealing Physical Damage. The number of attacks increases with the number of orbs pinged (2 attacks for 1 or 2 orbs, 5 attacks for a 3-Ping).
Yellow Orb (Conviction): Dashes forward, delivering a horizontal slash followed by an upward thrust to launch the enemy into the air, causing Physical Damage.
Blue Orb (Etching Whirl): Initiates a spinning slash dealing Physical Damage to the target and briefly attracts nearby enemies. Then, the Swordstaff generates a rotating sword shadow, slashing and damaging nearby enemies.
Ultimate Signature Move: Blade Abyss
Bright Candle (Staff Form): In Staff Form, cast Bright Candle to damage enemies within a range and activate Sword Form. In Sword Form, accumulate Stigmata Will upon dealing damage.
Illuminated Abyss (Sword Form): In Sword Form, consume Energy and Stigmata Will to unleash Illuminated Abyss, dealing Physical Damage to the target. More Stigmata Will stacks increase its damage.
Core Passive: Glowing Lanternlight
Afterglow Orb: When entering battle or Staff Form, Afterglow Orbs are generated.
Simulated Matrix: Perform Simulated Matrix by pressing and holding Dodge in Staff Form.
Glowing Lanternlight: In Luminous Realm, tap Signal Orbs of the same color as Afterglow Orbs to deal Physical Damage to targets in range and generate Afterglow Points.
Bianca Stigmata Weapon & Memory Builds
Bianca Stigmata is another character in PGR who doesn't demand the 6-star signature weapon. F2P players can perform fine using the 5-star Polar Night without significant investment. While the 6-star Hecate improves her gameplay, the Polar Night is good enough for effective combat.
Anyway, she is a character who truly deserves to go for her 6-star weapon, not just for the power boost, but for how magnificent her design and gameplay are.
Weapons Guide
For F2P players, it's okay to go for the 5-star Polar Night to save Black Cards. The weapon increases Attack and Crit Damage.
For P2W players, the 6-star Hecate is the ideal signature weapon for Bianca Stigmata. The weapon increases Crit Damage, gains her sword stacks, and triggers her effect of using an upward slash when holding the Basic Attack button.
Memory Builds
You can build your Bianca Stigmata in PGR with 6-star memories from the Across The Ruined Sea event or any future events. Avoid wasting resources on 5-star memories. Check her recommended sets below:
4 Charlotte & 2 Leeuwenhoek: Main Build
This set increases her attack, abilities damage, and can rearrange Signal Orbs into 3-Pings while she's in the matrix.
4 Charlotte Memories: TOP.
2 Leeuwenhoek Memories: Bottom.
4 Charlotte & 2 Cottie: Signature Focus
This set switches the effect of enhanced Attack from Leeuwenhoek Memories for a more efficient Signature Move activation, reducing the required Energy while also boosting Energy Gain when pinging Orbs.
4 Charlotte Memories: TOP.
2 Cottie Memories: Bottom.
Note: For fun, I chose the Charlotte & Cottie memory set.
PGR Resonance For Bianca Stigmata
Here are the suggested Resonance setups for Bianca Stigmata's memories and her 6-star Swordstaff (Hecate) in Punishing Gray Raven:
6-Stars Weapon Resonance: Hecate
1st: Glorious Afterglow.
2nd: Dead Line Timing.
3rd:  Matrix Lightning.
or
1st: Glorious Afterglow.
2nd: Matrix Lightning.
3rd: Incandescence.
Note: Some experienced players suggest that Glorious Afterglow is all she requires for the 6-Stars Weapon. For certain solo situations, Dead Line Timing can also be in use.
All Memory Resonance:
Top Memory Slots: ATK +15, CRIT +15.
Bottom Memory Slots: Signature Move.
Team Setup For Bianca Stigmata
For Bianca Stigmata's team setup in Punishing Gray Raven, prioritize teammates with Physical Elements for best synergy. Here are some Physical Teams suggestions to consider:
Suggested Physical Team
Tank: Rosetta Rigor.
Support: Liv Luminance.
F2P Friendly Team
Tank: Nanami Storm.
Support: Liv Eclipse.
Note: The game might offer you certain S-rank characters for free, which can include Rosetta Rigor and Liv Luminance.
Feel free to explore available guides here:
Pull Recommendation: Is She Worth It?
Bianca Stigmata definitely appears as a F2P-friendly character worth getting in Punishing Gray Raven. Despite requiring 60 attempts to guarantee the summon, she doesn't require a 6-star weapon to the same degree as most Omniframe characters.
Not only that but even players who obtained the 6-star weapon don't necessarily need to maximize its Resonance.
In our experience, we noticed that Bianca Stigmata's gameplay in Punishing Gray Raven can become really repetitive over time, as it often relies on repeating the same combo loop for optimal damage, which can become somewhat boring.
Conclusion: Balter Finally Arrived
In the end, we hope that our Bianca Stigmata guide and builds for Punishing Gray Raven are easy and helpful for everyone, especially F2P players and beginners.
Whether or not you choose to pull for Bianca Stigmat, she is a character many players, including myself, have eagerly awaited her arrival. Also, regardless of her suitability for free players or her repetitive gameplay in Punishing Gray Raven, investing in and upgrading her is genuinely worthy.
Furthermore, let's not forget the impressive similarity between PGR Bianca Stigmat and the well-known anime character Saber (Artoria Pendragon); this resemblance is truly remarkable.
For more information about the game, check below:
If you like our Punishing Gray Raven Series, support us by sharing. Leave a comment for updates, or If you have any questions.