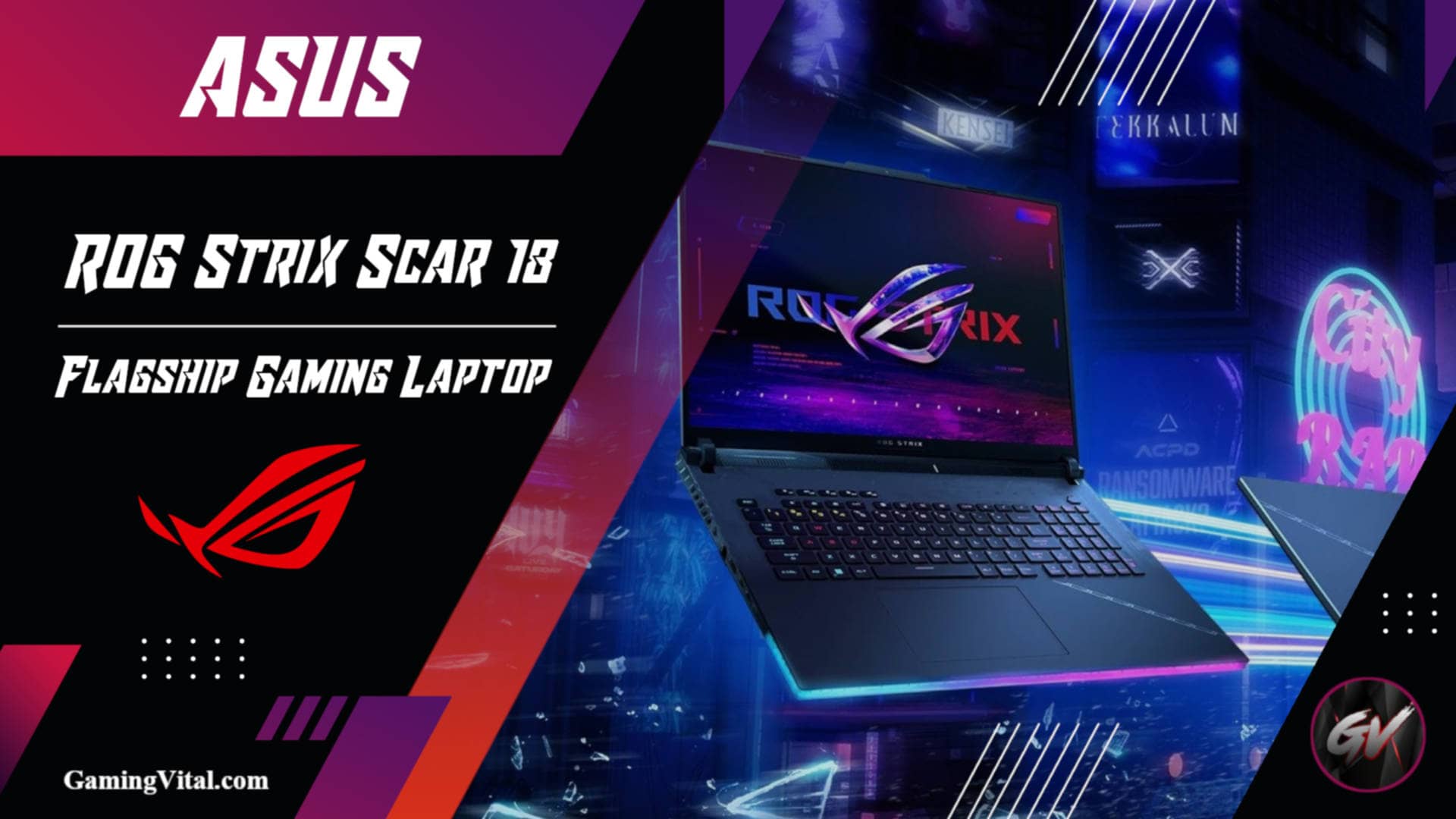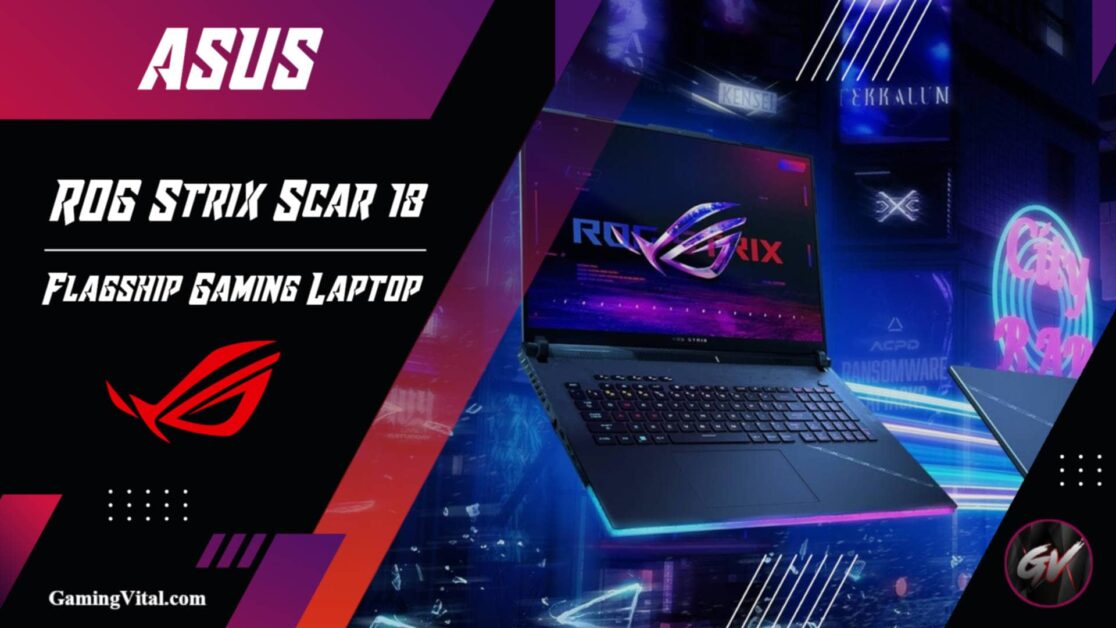 A Flagship Gaming Laptop from Asus in 2023 that promises a monstrous performance and gaming power. But does ROG Strix Scar 18 truly deliver exceptional value and worth, especially when compared to a PC gaming desktop with similar specs?
In this article, we share our focused review of the Asus ROG Strix Scar 18 gaming laptop in 2023, aiming to provide straightforward insight without diving into the technical complexities. Such as highlighting the main Asus ROG Strix Scar 18 specs, gaming tests, value for money, and overall worthiness, alongside Pros & Cons to assist your buying decision.
In short: the Asus ROG Strix Scar 18 stands as a powerhouse flagship gaming laptop in 2023, equipped with the RTX 4090 GPU and Intel Core i9 CPU, along with premium features. Its raw gaming capabilities offer a top-tier gaming experience. However, it comes at a expensive price, considering the weaker RTX 4090 GPU compared to custom-built gaming PCs. Despite this, it remains a compelling choice for gamers in search of a high-end laptop.
Asus ROG Strix Scar 18 Overview
The Asus ROG Strix Scar 18 is a flagship gaming laptop designed to be the leading machine of its generation. With its massive 18-inch display and the top-specced configuration in 2023, it stands among the fastest machines available, meeting the needs of gamers who looking for a high-end gaming laptop.
At its core, the ROG Strix Scar 18 in 2023 is equipped with the 13th Gen Intel Core i9 processor and Nvidia RTX 4090 GPU with a Maximum Total Graphics Power of 175W. This flagship gaming laptop is aimed to deliver nothing less than a high-tier performance.
Main Specs & Features:
Screen: 18-inch, up to 2560 x 1600 resolution, 240Hz refresh rate, G-Sync support.
Processor: 13th Gen Intel Core i9.
Graphics: Nvidia RTX 4090 with a max TGP of 175W.
Memory: Up to 32GB DDR5-4800 RAM.
Keyboard: RGB backlighting.
Connectivity: Wi-Fi GE & Bluetooth.
Storage: Two PCIe Gen 4 M.2 slots for SSDs.
Camera: 720p HD webcam.
Battery: 4-Cell 90Wh.
USB Ports: 2 USB 3.2 Gen 2 Type-C (1 with Thunderbolt 4), 2 USB 3.2 Gen 2 Type-A.
Other Ports: HDMI 2.1 output, 2.5G Ethernet, and 3.5mm audio combo jack.
Cooling: Triple-fan cooling system with liquid metal thermal compound.
Operating System: Windows 11.
Additionally, check out the official presentation of the ASUS ROG Strix Scar 18 laptop in the following video:
Performance & Gaming FPS: Strix Scar 18 Benchmarks
To evaluate the gaming prowess of Asus's flagship gaming laptop, the ROG Strix Scar 18, we've summarized the average FPS benchmarks achieved in some popular games.
For an accurate representation of Asus ROG Strix Scar 18 raw gaming performance in 2023, the benchmark tests were under the Highest Settings while Ray Tracing and DLSS/FSR features of the RTX 4090 GPU were disabled.
The data presented here draws from multiple sources, providing a comprehensive perspective that surpasses individuals or isolated tests.
| Game / Resolution | 1080P | 1440P |
| --- | --- | --- |
| Cyberpunk 2077 | ~120 FPS | ~90 FPS |
| The Witcher 3 | ~140 FPS | ~90 FPS |
| Control | ~190 FPS | ~120 FPS |
| Shadow of the Tomb Raider | ~140 FPS | ~120 FPS |
| Far Cry 5 | ~150 FPS | ~160FPS |
Asus ROG Scar 18: Core i9-RTX 4090-175W. Average FPS with Ray Tracing and DLSS/FSR Disabled.
Pricing: Is ROG Scar 18 Budget-Friendly Or Overpriced?
The Asus ROG Strix Scar 18 is undeniably a powerhouse gaming laptop. However, such high-end performance comes at a cost. With prices close to 4 thousand, it's definitely not a budget-friendly option.
But when compared to its similarly equipped competitors, like the Razer Blade 18 and MSI Titan GT77, the Strix Scar 18's pricing appears to fit in that competition.
Pros & Cons: Is Asus ROG Strix Scar 18 Worth Buying?
Although the Asus ROG Strix Scar 18 in 2023 comes with top-tier performance, on-the-go gaming, and premium design, its expensive price can be a huge drawback for some gamers.
Especially, when compared to custom-built gaming desktops with similar specifications. While the Scar 18 offers an all-in-one solution, a gaming PC can provide better value for money and room for future upgrades.
To avoid any confusion, it's crucial not to be tricked by the graphics card marketed on the ROG Strix Scar 18. While it's labeled as an RTX 4090 GPU, the version integrated into the ROG Strix Scar 18 has lower specifications compared to the custom desktop gaming PC.
With fewer CUDA cores, lower power limits, and a smaller memory capacity, the laptop's GPU performance is significantly different compared to a high-powered RTX 4090 desktop counterpart with a TGP higher than 400.
Some may find it more feasible to invest in a custom-built gaming PC with an RTX 4080 GPU for home use and a separate portable gaming laptop with an RTX 4050 or 4060 GPU at less than 1 thousand for on-the-go gaming. This combination could provide both desktop-level gaming with better performance and mobility at a potentially lower cost.
Nonetheless, for gamers who demand the absolute best in performance and are willing to invest, the Asus ROG Strix Scar 18 remains a compelling choice.
Besides, the following Pros and Cons might help you judge for yourself whether Asus ROG Strix Scar 18 is worth buying or not:
Pros
Great 18-inch Display With High Refresh Rate.
Top-Of-The-Line RTX GPU & CPU.
Max TGP of 175W.
Sturdy Build Quality With Premium Design.
RGB backlighting.
Large Storage.
Efficient Cooling With OK Noise Levels.
Advanced Optimus & MUX Switch.
Impressive Speakers With Great Sound.
Cons
Too Expensive Laptop.
Limited GPU Specs.
Large & Heavy.
Ports On Sides.
Cooling Occupy The Entire Rear Edge.
720p HD Webcam.
Battery Is Average.
Overall: Is ROG Strix Scar 18 A Good Gaming Laptop?
In conclusion, our Asus ROG Strix Scar 18 review showcases a 2023 gaming laptop that sets new standards in unparalleled gaming performance and stunning display quality. While it no way can be a budget-friendly option, it excels as a premium choice for gamers who demand the best. If you prioritize top-tier performance and portability, this gaming laptop deserves serious consideration.
For more detailed specifications and further information, check out the product links below.