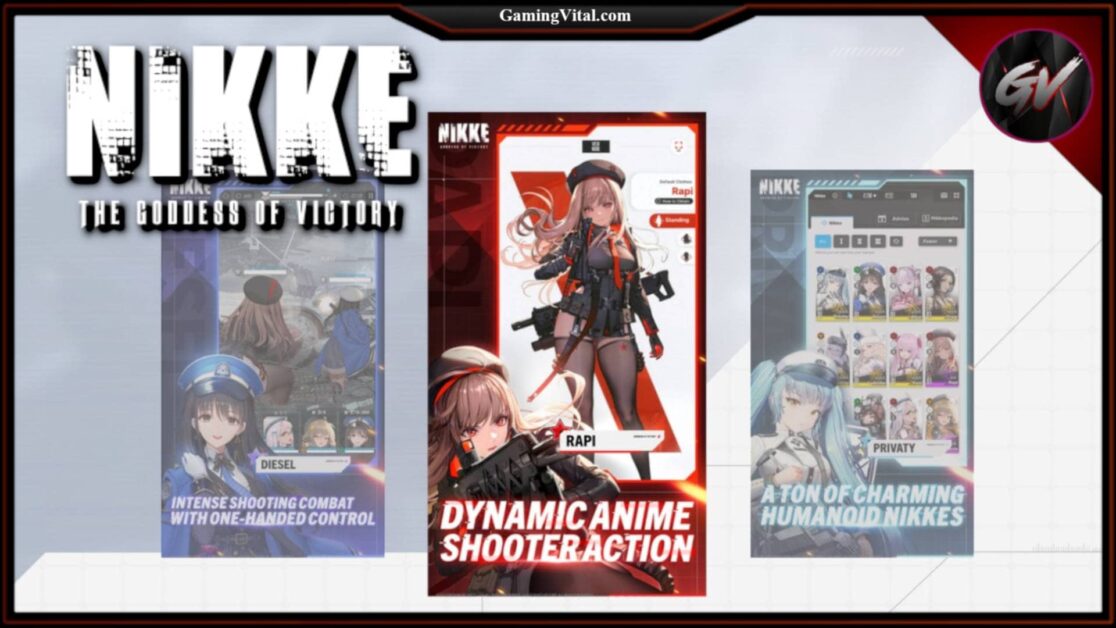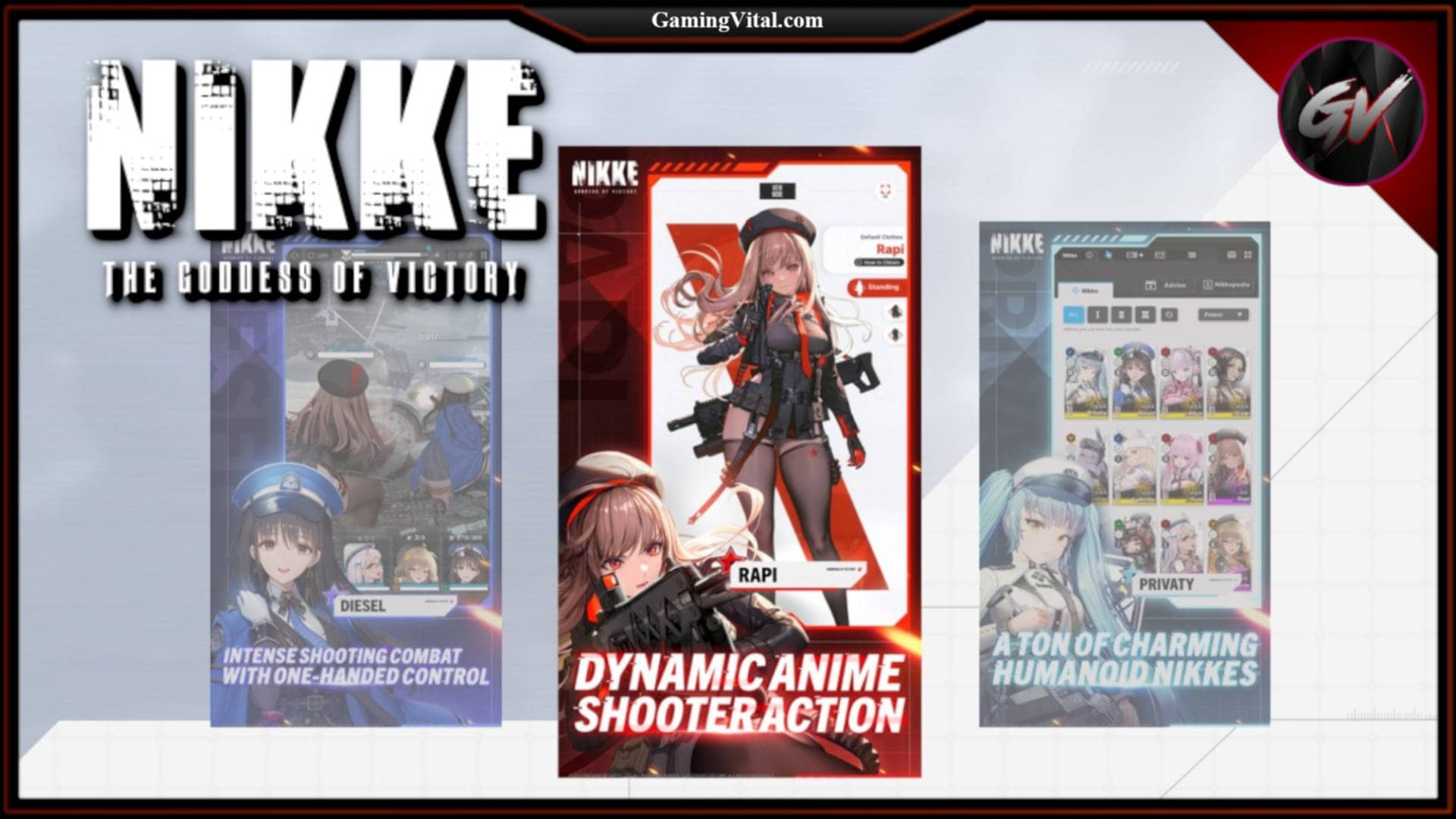 GODDESS OF VICTORY: NIKKE, the extraordinary anime shooter RPG Gacha game with high 2D visual art and F2P on mobile and PC Emulators. But how much P2W Cash Grab is NIKKE in 2023, and can it still be a friendly F2P Gatcha game for non-paying players?
In this article, we share our honest review of Goddess Of Victory NIKKE in 2023, which answers many vital questions evaluating how good the game is. Especially for F2P players, such as NIKKE Gacha rates, P2W concerns, whether it's F2P friendly, and whether it's a worth playing game or not. Additionally, the pros and cons of the GODDESS OF VICTORY NIKKE, are also listed.
In Short: GODDESS OF VICTORY: NIKKE is an online Shooter and anime Gacha game that has a great narrative story and stunning waifus to collect. The game's story takes place in a post-apocalyptic world. The gameplay is simple shooting including Autoplay and the player role is about commanding 5 NIKKEs to battle. The pull rate is high but there is no real pity. Plus, the game forces players to get the same characters several times to unlock contents, which is really bad. Unfortunately, NIKKE is pay-to-win massively that locks content behind a paywall, which makes it hard to recommend for players, especially the F2P.
What Is NIKKE Goddess Of Victory?
NIKKE is an online sci-fi RPG, 3rd-Person Shooter, and F2P anime Gacha Idle game that was developed by Shift Up and published by Level Infinite. In addition, it was released on 4th November 2022, and it's available on iOS, Android, and PC Emulators.
GODDESS OF VICTORY: NIKKE breaks the typical style in the mobile market platform by producing a new brand of next-level shooting action combined with Gacha RPG. This gives a new extraordinary experience of enjoyment in dynamic battle effects.
Game Story:
NIKKE has a fantastic narrative story, which takes place in a post-apocalyptic world where the surface world has been lost and humans are in ruins.
The player will begin his journey to save the invaded world by playing as a unique commander with his waifus army called NIKKE.
Decades before that, the Rapture's overwhelming invasion came without any reason or any chance of negotiation. In an instant, the invasion turned the earth into a sea of fire and none of mankind's modern technology stood a chance against this colossal invasion.
Nothing could be done, and humans are at the point of extinction. Those who survived discovered something that offered them a glimpse of hope, the Humanoid Weapons.
Humans were forced to live deep underground after the world was destroyed by the Rapture.
Decades later, a group of girls awakens in the new home of humans called Ark. They are the outcome of humans' collective technological knowledge.
The girls take the elevator up to the surface, which hasn't been used in decades. They become the blade that exacts humanity's vengeance.
Their code-named is "NIKKE," which is a name reference to the Greek Goddess of Victory Nike, Humanity's last hope for victory.
GODDESS OF VICTORY NIKKE Gameplay:
The player will have to collect and command types of NIKKE into battle against the Ruptures. These NIKKEs are manufactured beings that resemble pretty anime girls with different elements, roles, classes, and sci-fi weapons in addition to unique combat abilities.
Moreover, the player also is a unique commander who has to play with a squad of 5 characters through in-game different contents, such as Main Campaign, Simulation Data Center, Interception, Tribe Tower, and also Outpost.
You can see from the video below an example of a Multiplayer CO-OP gameplay mode in the GODDESS OF VICTORY NIKKE. Where an SSR Helm character was used with a good team to defeat the Wildcat Engine Raid Boss.
Knowing that the experience of playing GODDESS OF VICTORY NIKKE in Widescreen Landscape Mode using your PC will be completely different and more enjoyable than playing it on a mobile phone.
You can download Ldplayer PC Emulator for NIKKE and Force lock landscape in the emulator settings.
NIKKE Gacha System & Rates:
GODDESS OF VICTORY: NIKKE offers a great pull rate for obtaining SSRs, which the rates are 4% for SSR, 43% for SR, and 53% for R. You might think that the game is the most generous of the Gacha games, but don't be deceived.
The fact that NIKKE lacks a guarantee pity mechanism for SSR character among the massive required amount of SSRs creates a serious problem.
So If players don't obtain at least 3 duplicates of the same SSR, they won't be able to advance from level 160 to 200 and will be stuck. Not only, but also extra dupes are must have to unlock additional stats for end-game content.
Moreover, watch the video below to see an actual F2P summoning experience for SSR NIKKE characters:
Besides, see the info below about the Gacha banners that are available on GODDESS OF VICTORY: NIKKE:
New Commander Special Recruitment: PAID Gems
This is a one-time banner that cost 2000 PAID Gems discounted from 3000. Additionally, the free gems earned in-game by players cannot be used with this banner. Also, this is the only banner that has a reasonable pity that will guarantee a Random SSR Nikke.
Ordinary Recruit: Free Gems & Cards
This is the standard banner that is always accessible and uses the free currency for summons. This banner cost 300 gems for a single pull and 3000 gems for 10 pulls. Also, it lacks the pity that guarantees SSR character. After 40 summons, you will be able to access the Revise Wishlist, where you can select 15 SSR characters to boost their pull chance.
In addition, summoning a character from this banner gives 1 Silver Mileage Ticket. After you have 200 tickets, you can exchange them for an SSR duplicate token at the shop.
Social Point Recruit: Friendship Currency
This is a friendship banner that is also always accessible and uses social points obtainable from friends in the game for summons. This banner cost 10 points for a single pull and 100 points for 10 pulls.
Although SSR characters are available in this banner, the rate has been lowered from 4% to 2%, and it also lacks pity.
Special Recruit: New Character
This is the event banner that is always accessible only for new characters and uses the free currency for summons or event tickets. This banner also cost 300 gems for a single pull and 3000 gems for 10 pulls.
However, summoning a character from this Special Recruit gives 1 Gold Mileage Ticket. After you have 200 tickets, you can exchange them for 50 SSR Molds at the Mileage Shop to acquire the presented character.
You need to know this isn't a pity system and the event may end without making your 200 summons. However, the Gold Mileage Tickets will remain for the next events.
Is NIKKE P2W Cash Grab?
Yes, GODDESS OF VICTORY NIKKE is pay-to-win ridiculously. The required 3 dupes for SSR characters are terrible enough, but what about the need for 7 or more? In other words, every single SSR character needs a total of 13 dupes or maybe more in the future.
This is in order to unlock additional stats (core level after level 200) that are exclusive and don't transfer to the rest of the characters using the Synchro Device.
Is NIKKE Still A Friendly F2P Game?
No, GODDESS OF VICTORY NIKKE is not a friendly F2P for non-paying players. The game contents are locked behind a paywall that needs SSR dupes, which makes it difficult or near impossible to progress in NIKKE after level 160. Not to mention that the price in the shop is too high.
In other words, F2P players will be unable to progress without spending a big amount of cash. Plus, there are dozens of SSRs with an excessive price of 300 gems for each pull. So the F2P player might end up without getting any dupes to unlock the next game level or even obtaining his favored SSR character.
Should You Play NIKKE? Pros & Cons:
Hard to recommend, although it's a great game at its core, the greedy pay-to-win monetization system in GODDESS OF VICTORY NIKKE makes the game beyond the F2P player's limits.
However, if you are one of the whales P2W, get ready. Because GODDESS OF VICTORY NIKKE will offer you the Gacha challenge to get the waifus you want by swiping your credit card as much as possible.
Besides, the following pros and cons might help you judge for yourself whether NIKKE GODDESS OF VICTORY is worth playing or not:
Pros & Advantages:
First Time Seeing A Suitable Autoplay In A Game.
Simple Control.
Cant Autoplay Hard Content or Locked.
Superior 2D Anime Graphic.
Too Many Characters From The First Day.
Main Story Supports The English Voice Interaction.
Nice Narrative Game Story.
Masterwork Music.
Characters' Voices In English & Japanese.
No Stamina System.
Game Core Is Fun.
Stunning Looking Characters with high-quality illustrations.
Characters Have Distinctive Personalities.
Fun Co-op.
Cons & Problems:
Stuck Due To Limited Upgrade Resources.
Too much Repetitive Loop (Such As The Simulation Center).
The Squad Gets Nerfed If Below The Enemy Score Even If It's 1 point.
Endless Power Score-Based System.
Power Squad Score Is Unfair For Skilled players.
Power Squad Score System Favors Autoplay & P2W.
Few Animated Cutscenes.
1 SSR Needs 3 Dupes To Pass level 160 (P2W Paywall).
7 SSR Or More Dupes to Progress After Level 200 (Aggressive P2W).
Special Banner With Only Paid Gems (P2W).
Shop Prices Too Expenses (Aggressive P2W).
No Pity (SSR Every 200 Doesn't Count).
Too Many Bugs.
Events Reward Are Not Enough.
Daily & Weekly Rewards Are Low.
No freedom (Daily Login Required For Grind).
Need VPN To Fix Network Errors, Fix Disconnect, or Log In.
NIKKE GODDESS OF VICTORY In Overall: Is It A Good Game?
We can say that GODDESS OF VICTORY NIKKE was supposed to be a good side game with a great narrative story. However, we can't recommend it due to the enormous P2W Gacha and paywall, which has one of the worst banner character systems.
Unfortunately, it was a great experience at first, until we discovered the content paywall that requires duplicates of SSR characters. Where based on the above data, you need to be super lucky with the 4% to summon 1 NIKKE character you want in addition to 3 dupes to reach level 200, and then 10 more dupes for max stats.
Without Limit Breakers, SSR characters are useless and will be less than SRs in NIKKE. If you are a F2P player, after a long run when you get 2 dupes for just 1 SSR character or even for 5 characters, you will find out that nothing changed, you just wasted your time.
Forcing players to get SSR NIKKE characters several times to be viable in the late game sounds really horrible and turns off players away upon hearing about it. Not to mention that there is no real pity in NIKKE which makes things even worst.
Besides, if NIKKE introduced a PVP and guild system in the future based on the SSR dupes' stats and power scores, it would be a disaster.
As F2P Player, you'll be able to enjoy your first or second week in NIKKE. However, when you are stuck and unable to unlock content due to limited resources or the need for P2W duplicates, the struggle begins. This is too much for a mobile Gatcha game that supposes to be casual and friendly.
Play NIKKE Right Now: Mobile & PC Emulator
Finally, we hope that our honest game review of GODDESS OF VICTORY: NIKKE is simple and useful for everyone. Consequently, if you are interested in trying this anime sci-fi Gacha game see the following:
Furthermore, support our GODDESS OF VICTORY NIKKE Honest Review by sharing it, also leave a comment for continuous updates and fixes. Knowing that sharing will motivate us to produce more content like this.
GODDESS OF VICTORY NIKKE Honest Review In Short
Free To Play Monetization (Greedy Pay To Win Gacha) - 10%
It's a nice game at its core with unique gameplay and has an impressively large list of Waifus, but no F2P player can bear the greedy P2W Gacha monetization in the game.