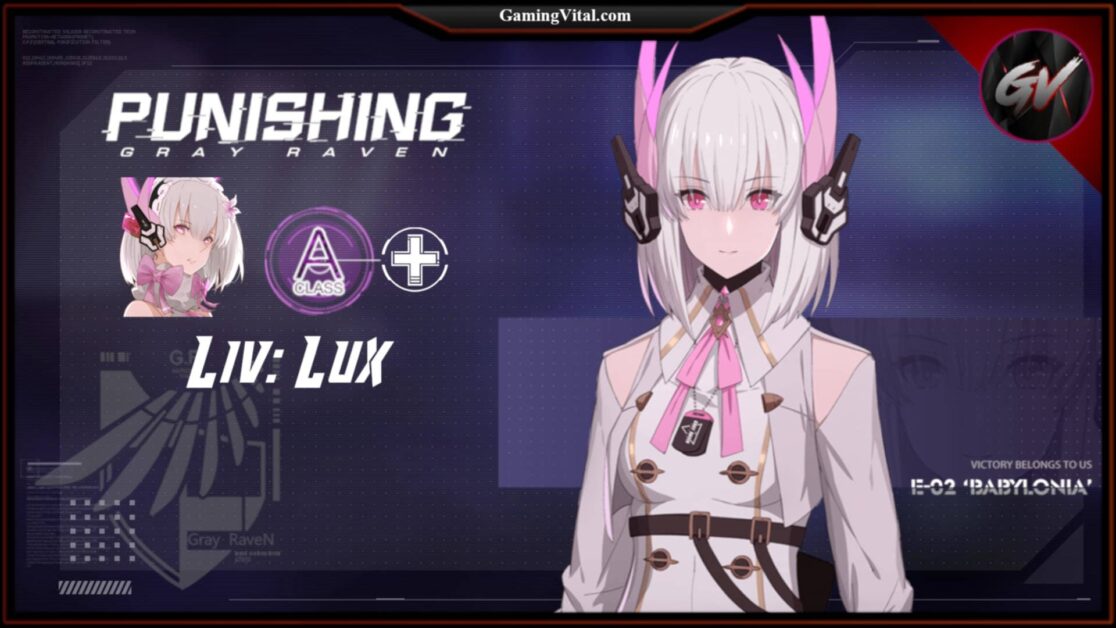 Liv Lux, the A-Rank Lightning Support frame in Punishing Gray Raven (PGR). It's a construct that was originally customized by the previous Qingting Egret commandant.
In this article, we share the Liv Lux Guide and the Best Builds for her in our Punishing Gray Raven (PGR) Series. It primarily focuses on Liv Lux Signature Weapons, Memory Build Sets (Continuous Healing and QTE Healing Support), Lightning Teammates, and more.
In short: Liv Lux, the A-Rank construct with a Support frame and primarily utilize Lightning Elements with continuous healing support in Punishing Gray Raven. Her 6-star weapon is called Benediction, which is a Levi-Gun that primarily boosts allies Damage. Additionally, Guinevere and Cottie are her best Memory Build for Survivability. She can support any team, especially the Lightning with Bianca Veritas.
Liv Lux Character Short Overview:
Liv Lux is an A-Rank Lightning construct from the Gray-Raven Army and plays a support role in Punishing Gray Raven (PGR) game. She can deal elemental damage of 80% Lightning and 20% Physical and wields a Levi Gun as a weapon.
In her Lux frame, Liv cut off her long hair to show her strong will and to say goodbye to the past, it was to announce in front of everyone with her identity as Liv of Gray Raven. After adjusting to a more suitable stance for fighting, she finally made her way back to the battlefield.
Besides, Liv lux construct specialty in the game is about utilizing continuous healing and doing mixed damage of Physical and Lightning Elements.
Additionally, the related frames to the Liv Lux construct are as follows:
Further, check out Punishing Gray Raven Global Liv Lux's short Spring Breeze PV video that shows one of her amazing free skin coatings:
Liv Lux Gameplay:
Liv Lux's gameplay is easy and brainless, all you have to do is just attack the marked target with Basic Attacks to trigger a Lightning Lure.
Targets can be marked with the Blue Orb skill, Red Orb can also trigger the Lightning Lure and Yellow Orb put enemies into Inflicts Matrix. Staying in Ultimate Signature Move gains an orb every second and increases Attack. For further information, see the Skills Introduction for Lux Frame in the next section.
See below the PGR gameplay of Liv lux including her other coating skin that players got for free and has wonderful skill effects:
Skills Guide Introduction For Liv Lux In PGR:
The major skills of Liv Lux in Punishing Gray Raven, are introduced as follows:
Normal Skills:
Red Orb (Ion Cannons): Firing an ion cannon blast, causing Physical Damage dependent on the number of the pinged orbs.
Yellow Orb (Sanctum): Creates a cube at the target and applies an Inflicts Matrix Effect on the target inside the cube for a few seconds. It inflicts Lightning Damage and draws enemies in based on the number of pinged orbs. When the cube disperses, it explodes and inflicts Lightning Damage.
Note: switch-in her to battle will use a 3-Ping version of Yellow Orb (Sanctum) automatically.
Blue Orb (Virtual Barrier): Deploys an ion wall at the target, shocking enemies that pass through it. The ion wall only lasts a few seconds. Enemies suffer Lightning Damage every second, and their movement speed decreases based on the number of pinged orbs. After being hit, the target will be marked for a few seconds. When marked enemies are hit again, the duration of the mark is refreshed.
Ultimate Signature Skill: Electric Wave
Consumes Energy to release a lightning field for a few seconds, enhancing allies' attack within the circle and providing them Signal Orb every second. If enemies got inside the circle, their Movement Speed will be decreased.
Core Passive: Reversed Egretfield
The Basic Attack has a chance to trigger Lightning Lure when hit marked enemies and deal Lightning Damage. Likewise, Red Orbs have a chance to trigger Lightning Lure. The 5th Lightning Lure summons Ex-Lightning Lure dealing Lightning Damage and healing allies in the circle based on a percentage of Lux's attack.
PGR Liv Lux Weapon & Memory Builds:
The recommended PGR Liv Lux Memory Builds and her Scepter Weapons guide are as follows:
Weapons Guide:
F2P Player: the 5-Star Guardian Mount Levi-Gun is good enough for Liv Lux and has the effect of acquiring a random Signal Orb every 30 combos.
Spender P2W Player: the 6-Star Benediction Levi-Gun is the Signature Weapon for the A Liv Lux. It increases the damage to the nearby allies for every 12 orbs pinged. Plus, the damage increases when attacking Imprisoned enemies (Yellow Orb).
Note: unless you really like her, It's not worth wasting Black Cards on her 6-Star Benediction Levi-Gun weapon. This is because Liv Lux is an A-Rank character that can get the most out even if she has low battle power.
Memory Builds:
4 Guinevere & 2 Cottie: Continuous Healing
Guinevere/Cottie 6-star Memories will provide Liv Lux and her allies with Ultimate Healing Survivability, a healing drone will be charged every time she activates her healing. She also receives Energy Efficient, which allows her to perform more Signature Moves.
4 Guinevere Memories: TOP.
2 Cottie Memories: Bottom.
2 Guinevere & 4 Da-Vinci: QTE Healing Support
Guinevere/Da-Vinci 6-star Memories will empower Liv Lux with elemental healing support and activates extra QTEs.
2 Guinevere Memories: TOP.
4 Da-Vinci Memories: Bottom.
PGR Resonance For Liv Lux Weapons & Memories:
The suggested Liv Lux Resonance for 6-Stars Weapon (Benediction) and All her Memories in the Punishing Gray Raven, are as the following:
6-Stars Weapon Resonance: Benediction
1st: Glorious Spear.
2nd: Superconducting Axial Ray.
3rd: Dead Line Timing.
All Memory Resonance:
Top Memory Slots: ATK +15 & HP +75.
Bottom Memory Slots: ATK +15 & HP +75.
Team Setup For Liv Lux In Punishing Gray Raven:
Liv Lux is a nice friendly F2P unit that can fit any teammates in PGR as Lightning Support even if her battle power is low, see the following suggestions:
Suggested Lightning Teammates:
Attacker: Bianca Veritas.
Tank: Vera Flare (Garnet).
F2P Friendly Lightning Teammates:
Attacker: Lucia Dawn.
Tank: Chrome Arclight.
Check their guides below:
Finally, we hope that everyone will find our Liv Lux the A-Rank Lightning Support Guide & Builds for Punishing: Gray Raven (PGR) easy and useful. Check out the links below for further information:
Further, share our Punishing Gray Raven Liv Lux guide to support us. Knowing that sharing encourages us to create more content like this.