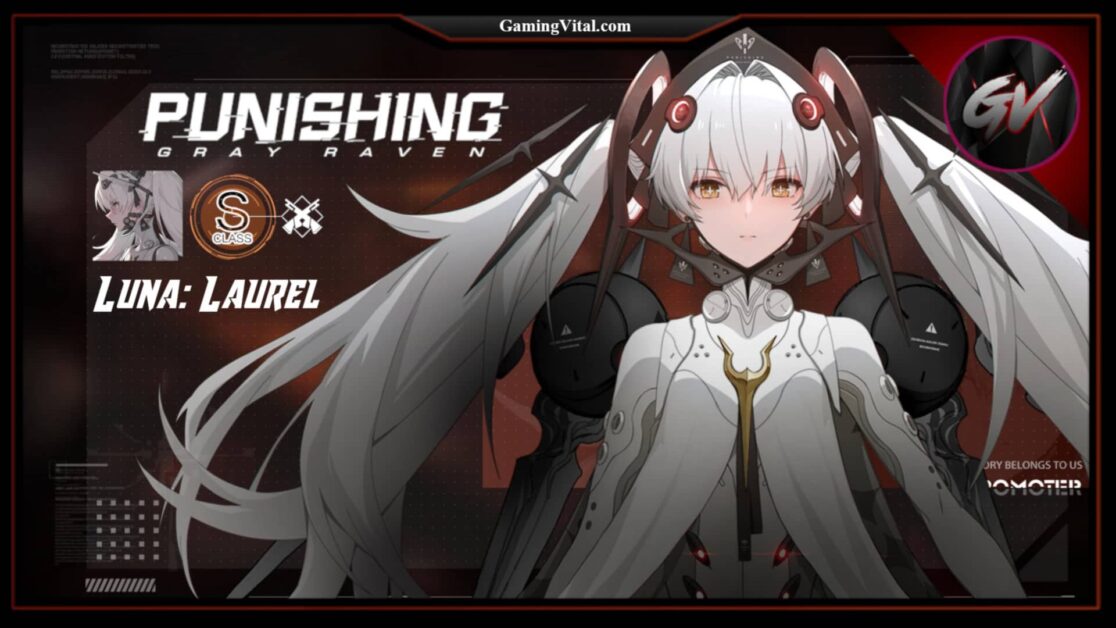 PGR Luna Laurel Guide, Memory Builds, and Gameplay: the 90% dark S attacker construct in Punishing Gray Raven (PGR). She possesses the ability to manipulate the Punishing Virus, which she can shape to create various energies and structures as an attack to destroy her enemies.
In this article, we share everything you need to know about the S Luna Laurel character in our Punishing Gray Raven (PGR) game guide series that covers her gear (Memories and Weapons), builds, gameplay, and skills.
In short: Luna Laurel is the S rank Attacker construct with 90% Dark DMG and 10% physical DMG in the PGR (Punishing: Gray Raven). Additionally, she has come alongside a big update that improves the quality of life in the game. Furthermore, you can use her 5-star weapon since her 6-star weapon is not that big deal. Plus, you can build her using Darwin & Flamel Memory Set, and can fit any dark team.
Luna Laurel Character Overview:
Luna Laurel is an S Rank Attacker Construct with 90% Dark and 10% physical damage, which is a playable character in Punishing Gray Raven (PGR) the RPG game.
Where Luna Laurel Construct came alongside the game update release of Punishing Gray Raven called Fake Ascension, which tells her story.
According to the storyline, Luna Laurel got her strength from the Punishing virus, but she still basically maintained her original appearance when she was turned into a Construct. In turn, Luna Laurel has the power to control all Ascendants.
Luna believes the root of all disasters stems from the arrogance and selfishness of humanity. She also believes that humanity has forsaken everything, fled in vain, and taken refuge from above. Yet, they dare to try to reclaim the land that was plunged into darkness because of them.
PGR Luna Laurel OST Moon Soundtrack:
Moreover, you can check the Luna gorgeous Fake Ascension EP soundtrack cover, which was sung by Rie Kugimiya for Punishing Gray Raven (PGR) game.
PGR Kuro Games: Commandant, do you know what "Luna" stands for?
After experiencing the Laurel interlude stories, you might get a better understanding.
"When the night falls into a pointless dream, only your hands can fix what's broken in me."
May her voice bring you peace in your lonely moments.
Here you will find the same Luna gorgeous Fake Ascension soundtrack cover but it's in Chinese with English subbed and animated.
Gameplay Of Luna Laurel In Punishing Gray Raven:
To get a better idea of the S Luna Laurel character in Punishing: Gray Raven (PGR) watch her gameplay below:
In the previous video, you can see our F2P attempts to pull the S Luna Laurel character from the 100% Constructs Banner Summon Event in Punishing Gray Raven (PGR).
The previous video shows the gameplay of Luna-Laurel in a Fake Ascension event that took place in the Punishing Gray Raven (PGR Global) RPG.
Moreover, you can watch here another PGR gameplay of Luna Laurel, which shows off her gorgeous-looking outfit or coating called Wispthorn Showcase Skin.
Skills Guide For Luna Laurel In Punishing Gray Raven:
Normal skills:
Red Orb: Unleash the spheres ahead, which attack in a randomized pattern dealing physical damage. However, when pinging 3 orbs the Red Orb skill damage will be converted into a Dark element. Also, she gains super armor while using the skill.
Yellow Orb: Continuously channel the flow of energy, which generate up to 4 spikes at the target's location, dealing physical damage. Also, if 3 orbs were pinged the Yellow Orb skill damage is converted to Dark element. Also, she gains super armor while using the skill.
Blue Orb: Unleash a virus network field for 3s that can deal physical damage. Also, if 3 orbs were pinged the Blue Orb skill damage is converted to Dark element. Also, she gains super armor while using the skill.
Moreover, the virus network field will automatically follow the nearest target. Otherwise, it will follow her instead. Luna Laurel can move while using the skill.
Ultimate Signature Skill:
Consume energy to continuously alter the gravity in a large area ahead, dealing a huge amount of Dark damage to all enemies targets within the ahead area.
Plus, Using ultimate during Annihilation Mode drains all consume all points and exits Annihilation Mode.
Core Passive:
Every 3 orb performed combos grants Annihilation points, which makes the next orb used to be considered as a 3 orb as well.
Moreover, to enter the Annihilation mode, hold the basic attack button when the gauge is filled, which can deal dark damage to nearby enemies.
Upon activating the core passive, all remaining orbs will be temporarily replaced by a maximum of 4 Annihilation orbs dependent on the Annihilation points.
While unleashing and activating all available QTEs, you will gain invincibility. When you consume an Annihilation orb, spikes appear, causing dark damage and giving you energy.
If the Annihilation orb is used in Annihilation mode, you'll get extra energy. Annihilation points are consumed by basic attacks. When the gauge is depleted or the character has been switched out, the Annihilation mode ends.
Luna-Laurel Leader Skill:
Increase the Dark damage by +10% to all team members. Plus, the Attacker constructs gain a +5% more attack.
Rank Passive Effects:
The following effects will apply when the Luna Laurel rank evolves by using Inver-Shards:
SS Rank: Spike damage +5% and drop 2 additional spikes.
SSS Rank: Dark damage +5% during Annihilation Mode and damage bonus persist for 4 seconds after exiting the Mode. Plus, when entering Annihilation mode with a full Annihilation gauge, trigger spikes.
SSS+ Rank: Increase ultimate damage based on the consumed number of Annihilation orbs.
PGR Luna-Laurel Weapon & Memory Builds:
In the following you will find the recommended Luna-Laurel weapons and memory builds in the game:
Weapons For Luna Laurel:
She can work fine with the 5-star weapon. In addition, the 6-star weapon will Increase the Luna-Laurel attack more. However, it doesn't have notable features that distinguish it from the 5-star weapon.
The 6-star weapon will Increase Luna-Laurel Dark damage by +15% and give her the ability to create Dark damage AOE from Annihilation Orb 4th spike.
Memory Builds For Luna Laurel:
At this moment we recommended the following memory build set for S For Luna Laurel in Punishing Gray Raven::
2 Darwin & 4 Flamel Memory Set:
4 Flamel Piece Memory Set: this will increase dark damage and attacks. Plus, when Luna Laurel enters the Annihilation State, she will gain a huge increase in her dark damage and her Finale Descends damage will increase including gaining an extra 10 Energy after pinging an Annihilation Orb.
2 Darwin Piece Memory set: this set will boosts damage when using Signal Orbs. Therefore, for every pinged orb, Luna-Laurel will gain an extra damage bonus for seconds, which can be stacked up to 5 times
PGR Resonance For Luna Laurel Weapons & Memories:
6 Stars Weapon Resonance:
Luna Laurel came alongside a huge quality-of-life update in the gear system of the Punishing Gray Raven game. Now you can choose and switch without cost or trouble.
1st Slot: The effect that grants a signal orbs.
2nd Slot: Extra damage reduction and speed when dodging.
3rd Slot: Choose what benefit you the most.
All Memory Resonance:
Top Memory Slot: Attack.
Bottom Memory Slot: Core Passive.
Team Setup For Luna Laurel In Punishing Gray Raven:
Luna Laure can fit any dark team. To be more specific, see the following:
A-Rank Vera-Rozen:
Since Vera-Rozen is 80% Dark, she will be a good support teammate for Luna Laurel. Vera-Rozen's QTE skill can inflict Dark Radiation for a few seconds, which increases dark damage.
S-Rank Kamui-Tenebrion:
Kamui-Tenebrion is 50% Dark and Luna Laurel can benefit from his QTE skill that decreases the target's dark resistance for a few seconds.
Finally, we hope that our S Luna Laurel Guide, Builds, and Gameplay for Punishing: Gray Raven (PGR) is simple and useful for everyone.
Furthermore, support our Punishing: Gray Raven (PGR) S Luna Laurel Guide by sharing it. Since sharing will encourage us to make more content like this. Plus, for updates, builds, and information or fixes, just leave a comment here or on our social media pages.