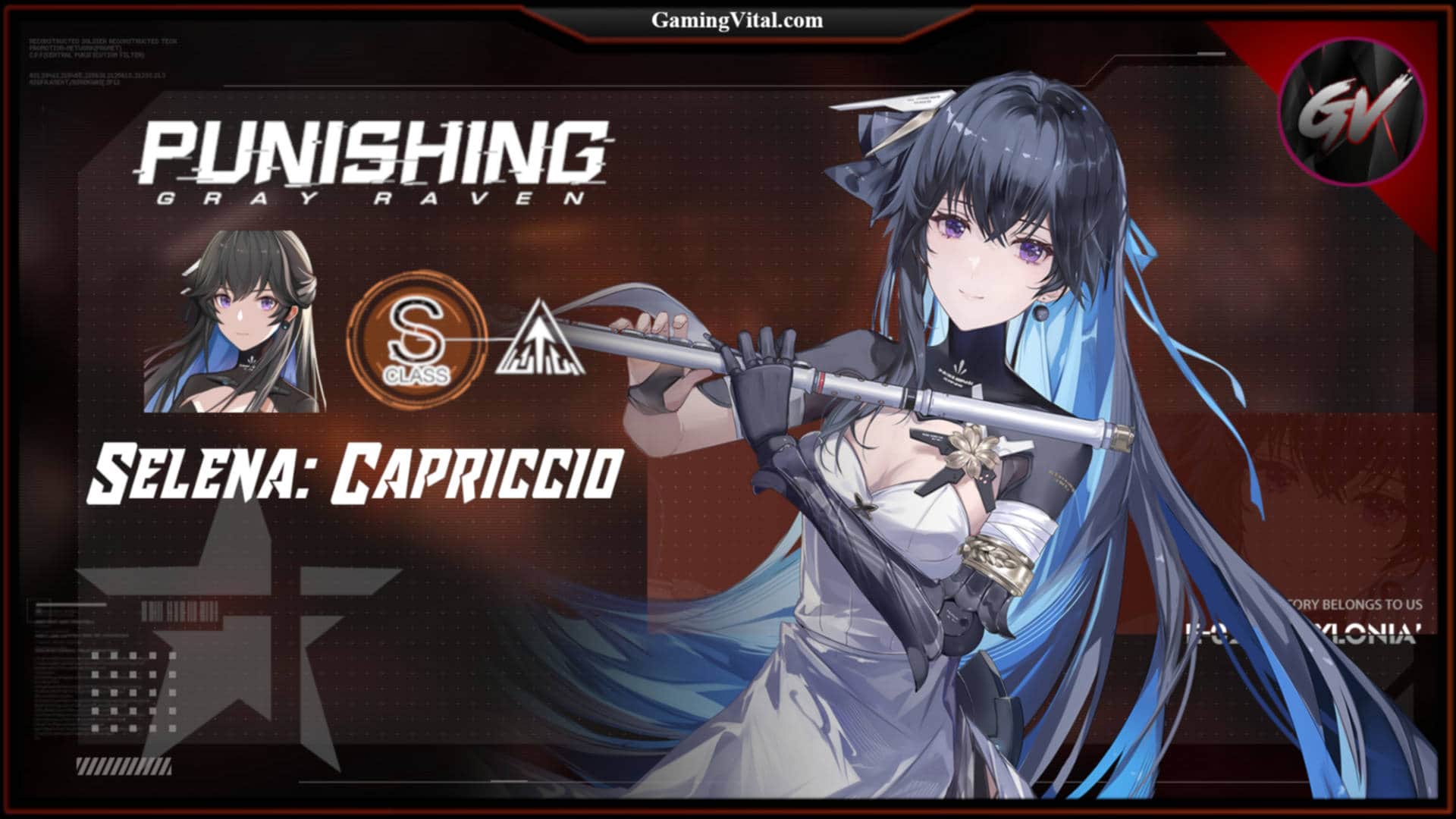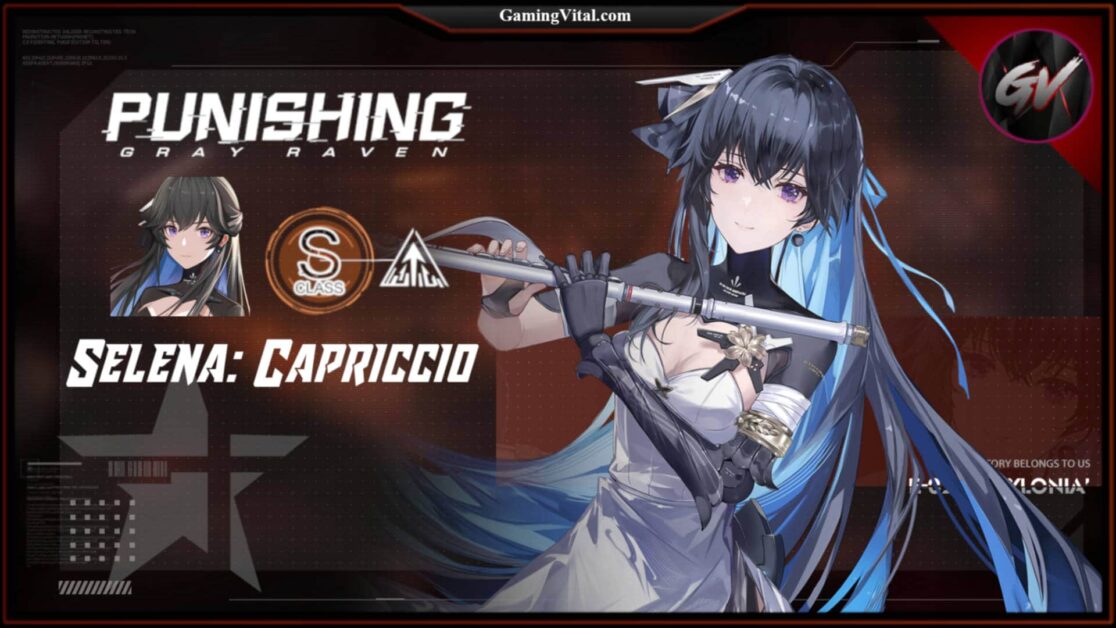 Selena Capriccio, the S-Rank Dark Amplifier Construct in Punishing Gray Raven (PGR). It's an alternative frame completed under the impetus of an artist from the Art Association. Also, Selena Capriccio is available to play starting from the Recitativo di Fantasia update.
In this article, we share the Selena Capriccio Guide and the Best Builds for her in our Punishing Gray Raven (PGR) Series. It primarily focuses on Selena Capriccio Signature Weapons, Memory Build Sets (DPS/Support, DPS, and QTE Support), Dark Team, and more.
In short: Selena Capriccio, an S-Rank construct with an Amplifier frame, mainly utilizes Dark Elements and has support healing capabilities. She is a farmable S Rank Amplifier that can be obtained for free through the Recitativo di Fantasia event, which will stay forever. Her 6-star weapon is called Sarastro, a Flute Sword that primarily boosts Damage and gains her energy. Also, she has various builds such as the Seraphine/Einsteina memory set that offers DPS and Support. She can support Dark squads, especially Luna Laurel.
Gaming Gear Picks of the Month
Selena Capriccio Character Short Overview:
Selena Capriccio is an S-Rank Dark construct with an Amplifier frame that plays a support role in the Punishing Gray Raven (PGR) game. She can deal elemental damage of 90% Dark and 10% Physical and wields a Flute Sword as a weapon.
Additionally, Selena Capriccio is from the World Government Association of Art (WGAA) Army and she has the ability to buff and heal allies, as well as deal burst damage to enemies.
About the Capriccio frame, it was originally a spare body that only stayed in the initial assembly and adaptation stage, where the applicable object was Selena. Due to the loss of connection at the space station, the development process of the body was put on hold for a while, and it was not restarted until it was processed by an artist.
Artists who were involved in the development of the Capriccio body have personally participated in the design of the body's shape. The most distinguishing feature of which is the flower-shaped decoration on the chest. According to the designer, part of the design idea comes from Selena herself.
Additionally, check out Selena Capriccio's other frames below:
Also, take a look at the Recitativo di Fantasia update through the PV official game trailer below, which presents Selena Capriccio with her coating skin in Punishing Gray Raven Global and more:
In addition, you can listen and enjoy the following Selena Capriccio's Character Impression Song, the Echoing: "Our heartbeat reverberates with each other, Yet a whole universe lies in between us."
How To Get S Rank Selena Capriccio For Free In PGR?
With the arrival of a Recitativo di Fantasia update, a new event mod will be added to the game and will stay forever. It will enable players to exchange event tokens with various rewards, including the ability to farm and get Selenav Capriccio in Punishing Gray Raven for free. She becomes the first farmable S Rank Amplifier character in the game without the need for Gacha.
The PGR's new Recitativo di Fantasia mode introduces series stages with several branching story paths. Where completing stages and missions will grants event tokens.
The Recitativo di Fantasia Event Starts With The Following Rewards:
Selena Capriccio's Shards (up to 50).
Ayla Brilliance's Coating (Butterfly of Flower Garden).
Coating Blueprints.
Event Construct R&D Tickets.
Basic Construct R&D Tickets.
Selena Capriccio Gameplay:
Selena Capriccio's gameplay in Punishing Gray Raven is simple, all you have to do is use the 3-ping orbs, Matrix ping, or Ultimate Signature Move then move toward the enemy, see the video below:
Furthermore, the following video show Selena Capriccio's gameplay in one of her amazing coating skins, which has unique skill effects that change the melodies of her attacks:
Skills Guide Introduction For Selena Capriccio In PGR:
The major skills of Selena Capriccio in Punishing Gray Raven, are introduced as follows:
Normal Skills:
Red Orb (Butterflies' Serenade): Selena charges, slashing the target and dealing Physical Damage equal to the amount of Orbs pinged. 3-Pings for Dark Damage and additional dash attack.
Note: Switch in, a 3-Ping version of this skill is automatically performed.
Yellow Orb (Ruinous March): Selena swings her sword, inflicting Physical Damage. Also, 3-Pings convert the skill into Dark Damage with an extra dash attack.
Blue Orb (Nebula Rondo): Selena blasts her flute, spins, and leaps back, gathering surrounding enemies and breaking free from a stun dealing Physical Damage. Likewise, 3-Pings change it into a Dark Damage.
Ultimate Signature Skill: Dream Cosmos Suite
Selena enters Capriccio Zone, gaining 5 Shooting Star Orbs and enhancing her Additional Damage Reduction. Selena charges towards the target, delivering Dark Damage each time a Shooting Star Orb is used.
When Selena's Shooting Star Orbs are depleted, she will order all of her shadow remnants, triggering Ensemble Binary Star. Selena then blows her flute, calling her existing shadow remnants to follow and attack the enemies.
Each shadow remnant delivers Dark Damage and causes the zone to explode, dealing Dark Damage and leaving 1 shadow remnant behind for 5 seconds. Every second for 5 seconds, surrounding allies are healed for 30% of Selena's Attack.
After the Capriccio Zone finishes, the Signal Orbs revert back to a Red, Yellow, and Blue ping.
Core Passive: Phantasia
When Selena uses a 3-Ping, moving the stick will summons a shadow remnant that continues to execute the original Signal Orb skill. Selena triggers Ensemble Reverb, and Red/Yellow/Blue Orbs become delivering Dark Damage.
Moreover, Using the movement stick triggers Ensemble Binary Star, delivering Dark Damage and summoning a shadow remnant when Selena expends Shooting Star Orbs.
PGR Selena Capriccio Weapon & Memory Builds:
The recommended PGR Selena Capriccio Memory Builds and her Flute Sword Weapons guide are as follows:
Weapons Guide:
F2P Player: the 5-Star Neopolitan Solo Flute Sword is good enough for Selena Capriccio and can increase her Dark Damage.
Spender P2W Player: the 6-Star Sarastro Flute Sword is the Signature Weapon for the S Selena Capriccio. It increases the damage for every after-image Selena produced, which can stack up. Also, releasing Ensemble or Echo grants energy.
Memory Builds:
To get the best from Selena Capriccio in Punishing Gray Raven, choosing the right memory build is essential (DPS/Support, DPS, and QTE Support). Therefore, here is the recommended memory builds:
2 Einsteina & 4 Seraphine: DPS/Support Set (SSS+)
It boosts Selena Capriccio's attack power and Dark Damage. Healed Constructs gain Dark Radiation, which boosts their Dark Damage. Reduce enemies' Elemental Resistance for her Dark Damage.
Note: works best with SSS+ Rank & Core Passive Resonance.
2 Einsteina Memories: TOP.
4 Seraphine Memories: Bottom.
4 Seraphine & 2 Cottie: DPS/Support Set (S To SSS)
Replacing Einsteina with Cottie grants Selena Capriccio efficient energy effects for more Signature Moves.
4 Seraphine Memories: TOP.
2 Cottie Memories: Bottom.
2 Darwin & 4 Seraphine: DPS Set
Replacing Einsteina with Darwin boosts Selena Capriccio all Damage when using Signal Orbs.
2 Darwin Memories: TOP.
4 Seraphine Memories: Bottom.
2 Philip II & 4 Da Vinci: Physical QTE Support Set
It boosts Selena Capriccio's QTE and activates an extra one. Also boosts Physical support (ATK & DEF).
2 Philip II Memories: TOP.
4 Da Vinci Memories: Bottom.
2 Guinevere & 4 Da Vinci: Elemental QTE Support Set
Replacing Philip with Guinevere boosts Selena Capriccio Elemental support (Dark & Resistance) instead of Physical.
2 Guinevere Memories: TOP.
4 Da Vinci Memories: Bottom.
PGR Resonance For Selena Capriccio Weapons & Memories:
The suggested Selena Capriccio Resonance for 6-Stars Weapon (Sarastro) and All her Memories in the Punishing Gray Raven, are as the following:
6-Stars Weapon Resonance: Sarastro
1st: Glorious Spear.
2nd: Superconducting Axial Ray.
3rd: Dead Line Timing.
All Memory Resonance:
Top Memory Slots: ATK +15 & HP +75.
Bottom Memory Slots: Amplifier Class Skill or Core Passive.
Team Setup For Selena Capriccio In Punishing Gray Raven:
Since Selina Capriccio could play a healing support role, she can take Vera Rozen's place in the Dark Team, see suggestions below:
Suggested Dark Team:
Attacker: Luna Laurel.
Tank: Karenina-Radiant Daybreak.
F2P Friendly Dark Team:
Attacker: Watanabe Astral.
Tank: No.21 XXI.
Check their guides below:
Finally, we hope that our Selena Capriccio Guide & Builds for Punishing Gray Raven (PGR) is simple and useful. Check out the links below for further information:
Further, support us by sharing our Punishing Gray Raven Selena Capriccio guide, it will encourage us to create more content like this.